Today's pictures of your cats submitted to our Facebook page – 'Like' us on Facebook to be the first to see these every day.
This is Tigger! Sent in by Sasha Barnes:
Nibbles with his Charlie Chaplin markings. He is the fattest cat of our 13 and is always in the food bowl. I think he weighs in at about a stone now lol so I've nicknamed him my chunky monkey as he's full of mischief. Sent in by Rebekah Louise Aylewood: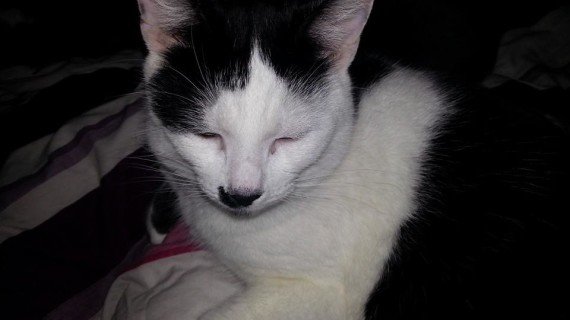 This is Poppy. Sent in by Shaz Mcdill:
And here's Sugar getting into the Christmas spirit and tree. Submitted to us by Linda Shaw:
O.M.G woman…shut down that awful music! Sent in by Tanya Conway:
And this little cutie was sent in by Vickie MacCarville:
To submit your cat pictures, read this information.
Got something to say? Go on leave a comment...