Here's a round up of some of the recent great cat pictures submitted to us by you on our Facebook page.
A big thank you to all of you for posting them.
1. This is a picture of my senior cat Tigerlily aka Tiggles!
2. This my tiger lily she is 4yrs old – Nancy White-Olguin 
3. This is my Emmie. She is almost 13, she loves her boxes! – Jennifer Karen
4. This is Oreo, the baby of 8 at 10 months old- clearly all too much for her that day! – Karen Peel
5. This is my new kitten 'Orla' she is 3 months old – Elizabeth Nikolaou
6. This Jazz – Michelle Judware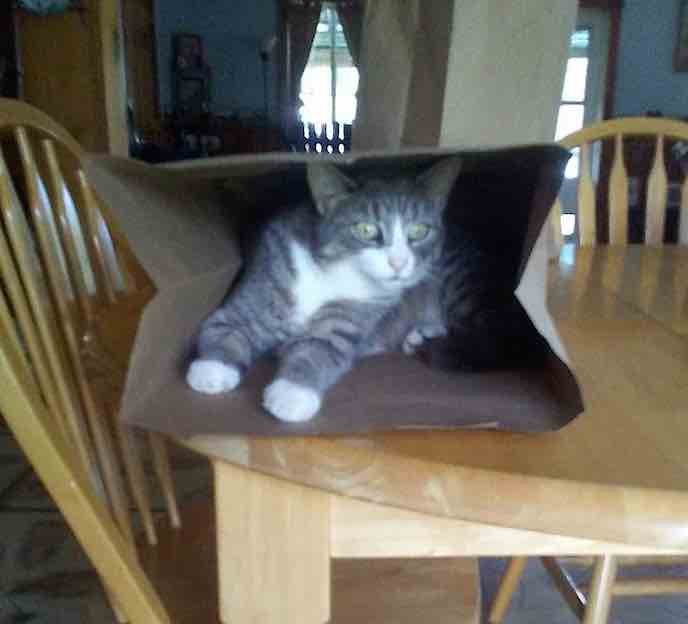 7. Marie, 3yrs old and Queen of the house – Diana Jacobs Ammer
8. Grandpa Butterscotch and grandson Buttercup. We lost Butterscotch about a month after this was taken. He was 13 – Byron E Roberts
9. My boy Sparta. He'll be 6 in July – Sarah Elizabeth Trentman
10. This is my Theo. Today is his 13th birthday! – Luciana Guich
11. This is my little Peanut. She's sick right now
with an auto immune disease and we are praying she doesn't need another blood transfusion. Prayers please! – Erik Evans
12. This is Spice. She is 15 years young – Lynne Middleton
13. This is Hamish, he will be 12 years old in May – Linda McCormick
14. James Bond investigating, 10 months old – Anita Medema
15. Pickles is 10 yrs old this year – Christopher Jones
16. This is Draakje, who is almost turning 5, he is enjoying the sunny days in Amsterdam – Gea Van Beek
17. She is 14 years old, totally love her – Re Becca Gu Zur
18. This is Missy, a feral who adopted us. She has become such a love bug. What a great lap warmer on a cold day! – Emily McReynolds
19. My beautiful Sage – Geri Cruz 
20. Baby is about 2 years old – Sue Crespin
Click here to see 19 cats that love taking selfies!